Robert Fudali, polonais, né le 13 décembre 1969 à Wroclaw, pseudonymes : rob darken, lord wind, …
GRAVELAND culte et légendaire, interdit officiellement en Allemagne,  Robert FUDALI affilié pagan front depuis sa création, à l'honneur sur pagan front, en page d'acceuil, en première ligne avec l'élite de la musique raciste, c'est le site de référence des groupes de rob darken et sur Fudali tres complet avec beaucoup d'interviews, déclarations en faveur de la suprématie de la « race aryenne », contre la « judéo-chrétienté », et pour de nombreux propos antisémites sur la prétendue existence d'un « complot juif ».
Un rôle central & moteur, idéologue, quand il ne travaille pas à tisser des liens entre les paganismes, ou a collaborer avec d'autres groupes robert fudali est enfermé dans une approche home studio et homme orchestre (one man band), zéro concert en 23 ans, concentré sur la production de ses projets et de toute la promotion à répétition pour ses multiples disques : plus de 25 références discographiques graveland officielles, éditées et rééditées, disponibles sur tout support et format, et encore 25 autres disques tout projets confondus
sans compter les produits dérivés
il collabore a l'heure actuelle avec le graphiste d'extrême droite polonais MZ propaganda pour le design, l'image de ses disques et sa promotion.
1992 émergence The Temple of Fullmoon TTF & premiere démos de graveland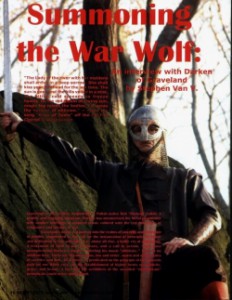 1993 collabore avec behemoth
1994 premier album de graveland
1995 Fullmoon – United Aryan Evil (1995, Isengard Productions) ,
la police inquiete le TTF,
premier veles,
premier lord wind,
13 disques de 1995 à 2000
1999 rapprochement avec les mouvances radicales implantées,
collaboration avec absurd
2000 Raiders of Revenge (2000, Resistance Records, split z Honor)
(olaf jalinski & Mariusz Szczerski)
et collaboration avec thor's hammer
2005 interview Aryan Genocide Propaganda 666 ZINE '2005 / Serbia
2007 split w graveland temnozob & nokturnal mortum
2007 interview resistance mag
2011 interview blood & honour
2010 collaboration avec Kreuzfeuer
2014 concert à paris à la fleche d'or (beermageddon fest), en tant que bassiste du groupe autr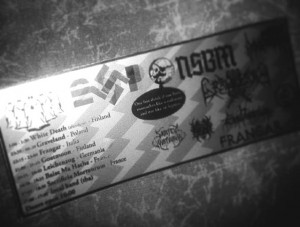 ichien Woodtemple
2015 affilié avec le graphiste du parti d'extrême droite néonazi (niklot) polonais
aout 2015 collaboration avec Jan Peters, compilation hommage à S
février 2016 the spirit never dies split w nokturnal mortum,
avril 2016 concert prévus
italie milano 2 avril avec BMH (groupe interdit en France)
(avec contre- événement FUCK NSBM)
juillet 2016 prévision d'un concert de Robert FUDALI / Graveland en France
http://graveland.herobo.com/en/News/
http://graveland.herobo.com/en/About-NS/
http://graveland.herobo.com/en/CD-LP-MC/
http://graveland.herobo.com/en/Home/
http://www.thepaganfront.com/graveland/w_decybel.htm
http://www.thepaganfront.com/graveland/rockhard_ang.htm
http://www.thepaganfront.com/graveland/thetrue.html
Graveland
Il s'agit de l'un des groupes cultes de la scène NSBM. Tellement culte que ce groupe polonais a été interdit de scène en Allemagne.
http://www.musik-sammler.de/wiki/index.php?title=Gesperrte_K%C3%BCnstler
CITATIONS & TRADUCTIONS D'INTERVIEWS DE ROB DARKEN :
(ces citations sont des extraits d'interviews par lesquels Rob Darken a éténdu sa popularité.
Afin de partager la réalité du racisme du leader de graveland, je me suis résolu a sélectionner et traduire ces citations pour la première fois en français … je pense que la liberté d'expression a des limites et que l'on doit rendre des comptes quand on incite à la haine. Ces propos sont diffusés ici par soucis de précision au sujet de l'auteur responsables de ces phrases
Les positions et les propos tenus qui appellent à la haine et à la violence portent gravement atteinte aux principes de la République)
« We all need racial segregation to preserve our own culture and spirituality »
« Nous avons tous besoin de la ségrégation raciale pour préserver notre propre culture et de la spiritualité »
« One thing is sure: RaHoWa is imminent. »
« Une chose est sûre : RAHOWA est imminente ».
(la sainte guerre raciale, acronyme de « racial holy war », terme créé par le « creativity movement", une pseudo-religion de la suprématie blanche , comme un cri de ralliement pour la cause de la suprématie blanche . Au fil des ans , son usage étendu au-delà des membres du Mouvement Créativité dans le mouvement plus large au sein de la mouvance suprématiste blanche.)
« Confrontation between White Western civilization and the civilization of colored immigrants is imminent. »
« Confrontation entre la civilisation occidentale blanche et la civilisation des immigrants de couleur est imminente ».

« The growing power of homosexual lobby destroying family bonds – it has influence on the decreasing number of White people »
« La montée en puissance du lobby homosexuel détruit les liens familiaux – elle a une influence sur la diminution du nombre de Blancs »

« Strong pro-Jewish lobby is also responsible for this bad situation »
« lobby pro- juif fort est aussi responsable de cette mauvaise situation »

« Mass medias ruled by the Jewish lobby manipulate information and spread propaganda against Arabs. »
« médias de masse dirigés par le lobby juif manipulent l'information et de la propagande de propagation contre les Arabes . »

« spiritual emptiness and intellectual shallowness. The requirements of propaganda and political correctness kill the art. Hollywood productions are very weak. They are marked by lack of inventiveness , supporting of feminist and homosexuals. »
« le vide spirituel et la superficialité intellectuelle . Les exigences de la propagande et de la rectitude politique tuent l'art . productions hollywoodiennes sont très faibles . Ils sont marqués par le manque d'inventivité , le soutien des féministes et des homosexuels. »
« Anti-Semitism that comes not from natural instinct contempt and aversion for Jews (as Jews often describe it) but from the observation and evaluation of contemporary political situation and activities of international Jewish lobby. »
« L'antisémitisme qui ne vient pas du mépris de l'instinct naturel et de l'aversion pour les Juifs ( en tant que Juifs décrivent souvent ), mais de l'observation et de l'évaluation de la situation et les activités du lobby juif international politique contemporaine . »

source : http://www.graveland.org/
"In Poland, new neo-fascism powers are rising. Its theories are near to our ideology, so we support it. War is the first duty of all who live for Darkness or Paganism," he professes. "In Europe, neo-fascismis re-born and Europe must re-emerge in a new spirit. It will lead to big changes in the future. We have to take power from old, true traditions of these lands. We chose the way of war, because we have to wage war againstthe sub-human races from Turkey, Africa and Rumania. Destroy Negroes and other sub-men! They destroy our traditions and culture. Europe must be cleansed from this fucking shit! Europe only for white Aryan race!"
"En Pologne, de nouvelles puissances néo-fascistes sont à la hausse. Ses théories sont proches de notre idéologie, donc nous nous soutenons. La guerre est le premier devoir de tous ceux qui vivent Darkness ou Paganisme," professe-il. «En Europe, le néo-fascisme re-nait et l'Europe doit réapparaître dans un nouvel esprit. Elle conduira à de grands changements dans l'avenir. Nous devons prendre le pouvoir à partir de vieux, de véritables traditions de ces terres. Nous avons choisi la voie de guerre, parce que nous devons mener une guerre contre les races de sous-humains en provenance de Turquie, Afrique et Roumanie. Détruisez les Noirs et les autres sous-hommes! Ils détruisent nos traditions et la culture. L'Europe doit être purifié de cette putain de merde! l'Europe uniquement pour la race aryenne blanche ! "
Oklahoma City bombing ganing international attention, Darken was all too keen in letting his review go public in his support of the explosive bloodshed.
"It was a very positive act. It is a pity it didn't kill your fuckingpresident, that Jew, Bill Clinton. Fuck Clinton! Your country is, in fact, very weak," he said. "You have many sub-men who destroy yourcountry and a Jew is your president! You have to kill them all!
« L'attentat d'Oklahoma City gagnant l'attention internationale, Darken était trop vif pour laisser son avis aller public dans son soutien à
l'effusion de sang explosive.
«Ce fut un acte très positif. Il est dommage qu'il n'a pas tué votre putain de president, ce Juif, Bill Clinton. Putain Clinton! Votre pays est, en fait, très
faible", a-t-il dit. «Vous avez beaucoup de sous-hommes qui détruisent VOTRE PAYS  et un Juif est votre président ! Il faut les tuer tous!
What needs to be banned or destroyed in Poland?
– In Poland there are many things that should be banned or destroyed.  Now jews and communists have control over this country so one of our main aims is to get rid of them all.  Polish government sell Polish bands to rich people from Germany and other West European countries.  There people do not care about Poland and most rich people from Germany are jews hidden themselves under German names.
« Ce qui doit être interdit ou détruit en Pologne ?
En Pologne, il y a beaucoup de choses qui devraient être interdits ou détruits . Maintenant, les juifs et les communistes ont le
contrôle sur ce pays si l'un de nos principaux objectifs est de se débarrasser de tous. gouvernement polonais vendent des bandes
polonaises aux gens riches de l'Allemagne et d'autres pays d'Europe occidentale . Là les gens ne se soucient pas de la Pologne et les
gens les plus riches de l'Allemagne sont juifs eux-mêmes cachés sous des noms allemands . »


« As a pagan,  I hate christianity because jesus-jew-worshippers killed my pagan ancestors.  I support my pagan brothers (Slavs from Poland) and Wotans Volk.  As a pagan I am socialist.  So I support every act of nationalism.  I have many friends among pagan skinheads especially from Poland, Germany, France, etc. »
« En tant que paganiste , je déteste le christianisme parce que jésus – les juifs idolâtres ont tué mes ancêtres païens . Je soutiens mes frères païens ( Slaves de Pologne ) et Wotans Volk . En tant que paganiste je suis socialiste. Donc, je soutiens tout acte de nationalisme. J'ai beaucoup d'amis parmi les skinheads païens en particulier en Pologne , en Allemagne , en France , etc. »

http://www.rusmetal.ru/vae_